"La Vie Rêvée" Presentation
By Pokeslide
Design of the company profile presentation for the La Vie Rêvée agency, communication agency and sublimated reality
Transform dreams into reality
With the objective of drawing outlines of luxury type brands in a "Esprit Magazine" type ambiance, the artistic direction quickly moved towards a refined approach. Given the large, empty spaces in which to highlight the titles of the slides and to let the content breathe, a freer layout with great flexibility on the canvas of the slides was favoured..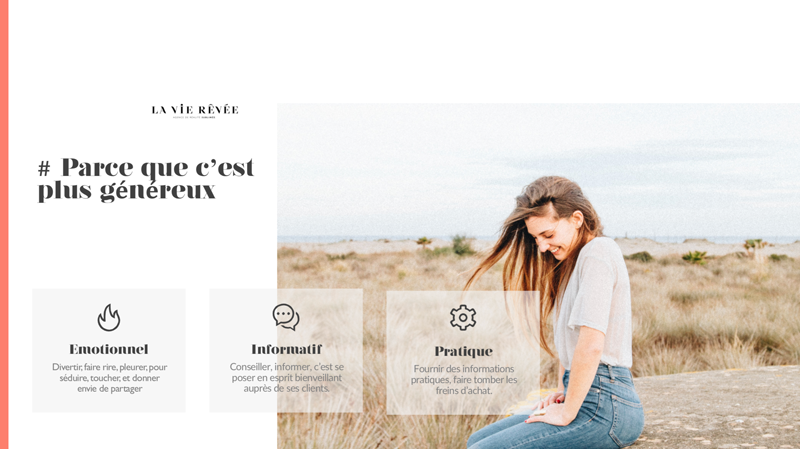 Artisans of images and words
Thanks to a set of fonts mixing a 'magazine' typography reminiscent of publications like Vogue and subtitles in the form of impactful quotes appealing to the imagination, the presentation describes wonderfully the universe of La Vie Rêvée around its four favorite sectors: food, health, mobility, and beauty.
Pushing the boundaries of communication further
This work finally enabled the Nantes agency to showcase its sharp look on the latest trends or innovations, in particular, through the selection of dreamlike images and slightly faded tones, which give a pretty, retro, trendy side to this presentation.
Discover more Powerpoint works
POKESLIDE – The Powerpoint Agency
13 Boulevard Saint Germain
75005 Paris
bonjour@pokeslide.com
+33 9 81 36 70 46