IMA Technologies Presentation
By Pokeslide
Creation of an animated presentation for the 2019 Annual Meeting.
Deployment of an "aerial" concept
In tandem with IMA Technologies, a 100% subsidiary of the Inter Mutuelles Assistance Group (IMA), we have developed an artistic direction setting up a boarding/plane/cabin/flight plan atmosphere, symbolizing the new flight of the company and its new direction.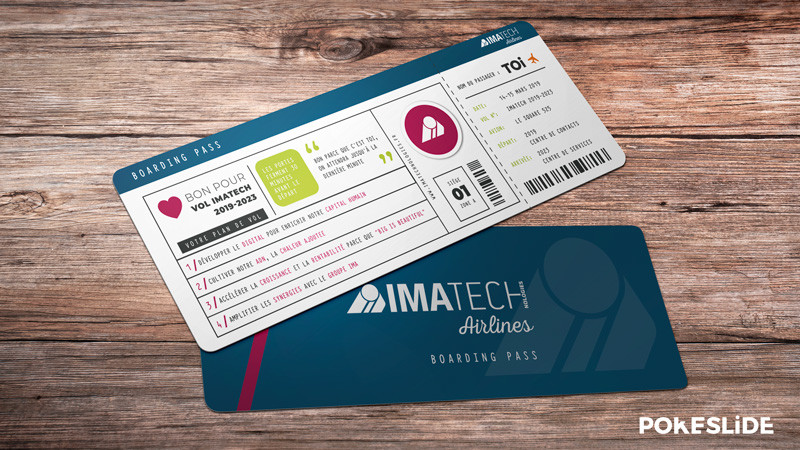 Creation of a graphic universe
In order to give a strong identity to the concept, we have created a set of charted graphic elements inspired by the world of air transport.
An "Imatech Airlines" logo
A boarding pass, distributed to all employees
A paper airplane model
A set of fonts and iconography
The addition of background videos and animations
The storytelling of the presentation was done through the use of background videos on the intermediate slides, which allowed us to give the audience the impression of boarding as they go, from arrival at the airport until the plane takes off. A complete presentation, with a strong concept and advanced technical support!
Discover more Powerpoint works
POKESLIDE – The Powerpoint Agency
13 Boulevard Saint Germain
75005 Paris
bonjour@pokeslide.com
+33 9 81 36 70 46